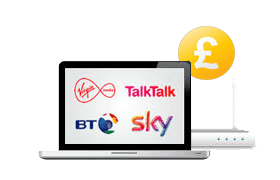 Broadband prices rise well above inflation
Norfolk Web Support
What happened?

BT, Sky and TalkTalk will all bump up their broadband prices on 1st December by more than the rate of inflation. BT announced earlier this year that it would increase its line rental charges by 6.25 per cent, depending on your package.

The cost of Sky's line rental will increase by 6 per sent to £16.40 a month, while TalkTalk's landline charges will climb by 4.7 per cent to £16.70.
According to the office for National Statistics (www.ons.gov.uk), the Consumer Prices Index is currently 1.5 per cent, while the overall rate of inflation in the UK is 1.2 per cent.
Sky also announced that it will be charging £12 per year for its 1571 answerphone service, which was previously free - and still is under TalkTalk. BT started charging its customers £22 per year for the answerphone service back in 2013.

How will it affect you?

If you're already a customer of one of these ISP's, your bill will automatically increase in December. If you're unhappy with the price rise and want to break your contract, the latest Ofcom rules mean that you can switch, but you'll need to do so quickly.
Customers of BT, Sky or TalkTalk should already have been notified of price rises via email or the post. Providers must give you a minimum of a month's notice before and price changes. However, given that most of the bigger ISPs are posting similar price jumps, there may not be anywhere better to switch to.

What does NWS think?

We're very disappointed by these price hikes and it's hard not to see them as a case of 'me too' on the part of the ISPs. The cost of running networks certainly hasn't leapt by 6 per cent, although price rises at wholesale, dominated by BT, could have an effect.
Additionally, all three ISPs posted solid profits on their broadband; BT's profits for the last quarter alone were £690 million. The difference for most customers will be little more than a quid or two a month, but many families will feel it - especially before Christmas.